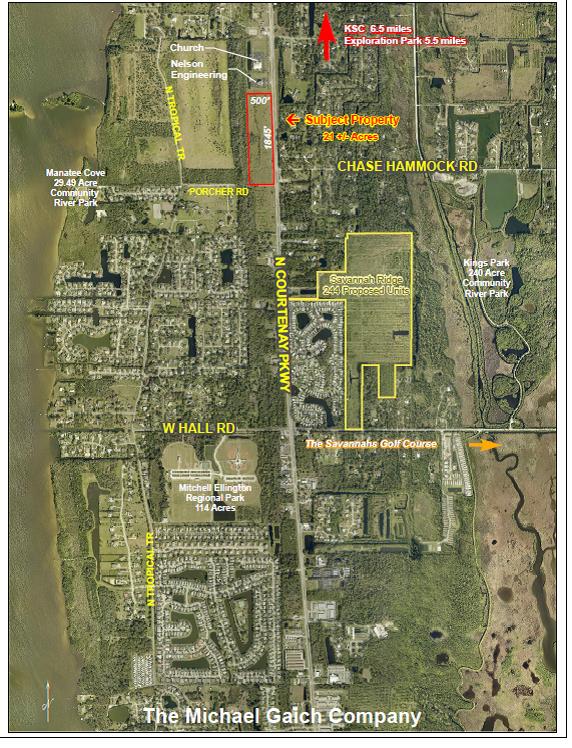 Property Info
Agent
Michael Gaich, CCIM
Property Description
The subject property is located on SR 3 on North Merritt Island, approximately 6 miles south of the Kennedy Space Centers employee entrance. This property is 4 miles north of State Road 528 (the Beachline Expressway) which is a major expressway, connecting Port Canaveral to Orlando International Airport.
This location is approximately 5 miles from Exploration Park where Blue Origin (owner, Jeff Bezos, Amazon CEO) is constructing a rocket engine manufacturing plant of 750,000 sq. ft. with a capital investment of $200 – $225 Million Dollars. The development is well underway, with one warehouse building almost complete. The Super Structure for another facility is underway. The facility is expected to employ 300+ professional engineers, scientists etc. with an average salary of $89,000.00.
In addition, OneWeb, a satellite manufacturing company, is under construction on a 150,000 square foot facility that will employ 250 with average salaries of $86,000.00. Occupancy is scheduled for early 2018. One Web has plans to launch a mega-constellation of 648 small satellites to expand high-speed Internet access around the globe. This location (21.5 Acres) is very convenient and is strategically positioned to serve the employment base at Kennedy Space Center and Port Canaveral, and will aid in the expansion of the commercial and residential development on North Merritt Island.
Property Profile
Description: The subject property contains approximately 21.5 acres of land. The property is rectangular in shape with 1,868 feet of highway frontage on State Road 3 and 500 feet on Porcher Rd. A former citrus grove, the land has been cleared and fenced and is currently zoned BU -1 and BU-1A.
This property is serviced with city water from the City of Cocoa. Brevard County has begun construction of the extension of sewer and reclaimed water on SR 3 from Hall Road to Church Road, north of the subject property. Construction of the sewer line is expected to be completed by June 2018. The property may be subdivided into 5 acres parcels beginning at the north property line.
Location: North Merritt Island, FL
Property #:
Status: Active
Zoning: BU-1 and BU-1A
Dimensions:
Acres: 21.5